Kiss, Marry, Kill: Manga/Anime Edition
This was popular on YouTube a little while ago so I decided to do my own Manga/Anime version.
      Note:Since I am a straight female, my cup is full of male anime/manga names.
How To Play:
Throw in a bunch of manga/anime characters from your gender preference (or preferences) into a cup. Choose three names from the cup, chose who to kiss, marry, or kill.
Round One:
Kirito- Sword Art Online, Tamaki- Ouran High-School Host Club, Kyouya- Ookami Shoujo To Kuro Ouji.
It was honestly tough to choose between Kirito & Tamaki, but here is my choice..
Kiss Kirito, because he is such a qt.
Marry Tamaki, because he is so incredibly nice. I know I would have fun everyday if I was married to him.
.
Kill Kyouya, I dropped the manga because I could not put up with Kyouya's personality.
Round Two:
Kaneki- Tokyo Ghoul, Kaname- Vampire Knight, Ganta- Deadman Wonderland
Kiss Kaneki, I haven't read Tokyo Ghoul, but from what I can see Kaneki is a total badass.
Marry Ganta, I have only seen a few episodes of Deadman Wonderland, but Ganta has been through so much, and is such a strong character.
Kill Kaname, I'm sorry, but he was such a boring character in my opinion.
Round Three:
Kenichi- History's Strongest Disciple, Inuyasha- Inuyasha, Yoh- Shaman King
Kiss Inuyasha, he's such a sweet character he deserves hundreds of kisses (from only Kagome of course).
Marry Yoh, I fell in love with him when I watched Shaman King as a child. I ship him with Anna, but I still love him.
Kill Kenichi, it's not that I don't like him I just prefer Yoh, and Inuyasha.
Round Four:
Shion- Magico, Natsume- Gakuen Alice, Killua- Hunter x Hunter
Kiss Killua, he's my favorite character on Hunter x Hunter.
Marry Shion, he is so freaking sweet, and tied as my favorite male character (the other one is Hak).
Kill Natsume 😦 I actually don't want to kill him, because I really got to love him as the series progressed.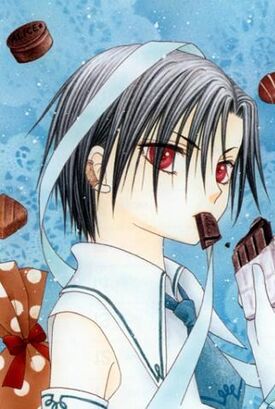 Round Five (Final Round):
Hak- Akatsuki No Yona, Takashi- High School Of The Dead, Yusuke- Yu Yu Hakusho
Kiss Yusuke, he lost his life protecting a child, opposite to what people say nice guys win.
Marry Hak, he's amazing you can tell he's a keeper by the way he treats Yona.
Kill Takashi, he had a sluttish behavior because he was with Rei, and from what the anime implied he did "it" with Saeko. Out of the three characters he's definitely my least favorite.
Well that's it for my Kiss, Marry, Kill: Manga/Anime Edition.